the importance of google my business
Update November 2022:
Without the
Google My Business
app, you have become entirely dependent upon Google Maps and access your business profile there. Yes, this is a royal pain, but we must all accept change. Each day more and more accessibility options get added, so it isn't all bad, but it definitely makes life for us as an agency more difficult and more reliant on such tools as Local Viking that can amalgamate all of our listings into a platform for posting and monitoring.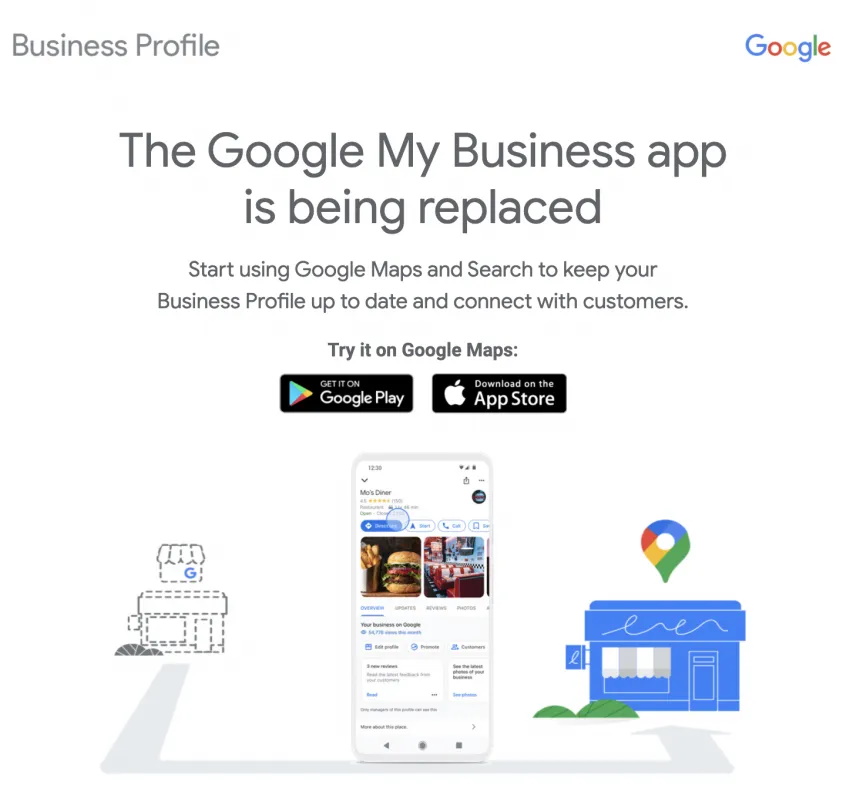 Update for November 2021
: Despite some rumours you may or may not have heard, Google My Business has been officially renamed to Google Business Profile. With the new name comes changes. Instead of logging in to a particular website or app, this new update will allow users on search engines and map apps on-the-fly access to their profiles so that they can make changes at any time with ease. Google is pushing to create an easy-to-use system that will allow more and more business owners to launch local ad campaigns directly from their simple interface. The new feature called "Local Planner" allows advertising access and the ability to manage Business Profile ads in just one click on any device without dealing with multiple logins or accounts. Sounds great, right?
There has been a lot of talk about the importance of using Google Business Profile Manager (formerly Google My Business). It's no surprise that customers often choose to look at your Google My Business profile to get familiar with a business before purchasing.
It's worth noting that GMB constantly gains in popularity. More and more people prefer to use Google My Business to analyze companies and get opinions and reviews about different local businesses. Consumers use Google My Business accounts to compare businesses from one to another and make a purchase decision.
Most likely, your prospects will pay close attention to many important aspects such as:
Business physical address
Location of a business on the map
Business phone number
Operating hours
Information about products or services
Information on payment options
Customer reviews
That's why it's so important for a local business to update a Google My Business page and provide consumers with the most up-to-date business details.
If the information about your business is inaccurate, you should make changes to your GMB profile as soon as possible. It would be best if you made sure that your prospects access all the information they need on your Google My Business page easily and quickly. But most importantly to you, the information about your company on GMB has to be accurate.     
Top Benefits of Google My Business
Creating a Google My Business listing is mandatory today. So, setting up a GMB listing has become the number one priority for every local business.
It's important to note that GMB increases its online presence and provides customers with detailed information about your company, its products and services, operating hours, etc. Now, we'll talk you through the most significant benefits of Google My Business.
– People tend to study businesses carefully before buying something. Your Google My Business page allows you to provide customers with important business details. GMB has become a source of information about the local business for your customers.
– GMB makes it easy for customers to find your local business. The reality is, your GMB listing is connected to Google Maps. That means that your business will be displayed on Google Maps. So, your customers will be able to see your business location and manage to find your company quickly when such a need arises.   
– GMB creates great marketing opportunities for different types of local businesses. Google My Business is a powerful online marketing tool that works well for small and large businesses.   
– Google My Business profile helps improve local SEO. If you create a Google My Business account, you will put your business in front of the right audience. When creating a Google My Business account, you have to specify a location for your business. That means that GMB will contribute greatly to the success of your local SEO strategy.    
– GMB increases web traffic. People tend to take advantage of the local search when trying to find businesses close to them. They use local keywords to find businesses near them. That means that the Google My Business page will drive a high amount of targeted traffic to your local business. So, you'll find it easy to turn your web traffic into real customers and increase your revenue.
– Another important thing that you need to be aware of is that a well-optimized Google My Business leaves a positive impression on a client and has a big impact on their buying decision.         
– Google My Business account comes with online analytics tools. With such online tools, you'll manage to estimate the efficiency of your advertising strategies.
– Google My Business helps gain customer trust. People tend to deal with local businesses that have a GMB profile. With Google My Business listing, you'll find it easy to boost consumer confidence and earn trust. As a result, more people will visit your website, go to your store and decide to purchase.   
As you can see, GMB has many great benefits for local businesses. There is no doubt that Google My Business has to be a key part of your local business marketing strategy.
Google My Business Optimization Tips
When selecting local businesses, consumers always take a closer look at GMB. It's important to know that Google My Business gained huge popularity during the covid-19.
Obviously, the global pandemic has changed the way people work and do business. Due to quarantines, some businesses had downtimes. Businesses had to change their schedules many times during the outbreak of the coronavirus. A lot of businesses had to go online. And of course, business owners always have to keep their prospects and clients informed about any changes and availability.
There is no better way to do this than update Google My Business listing. The information on your GMB profile is updated easily and quickly. Prospects try to get the most up-to-date business details such as an address, phone number, opening hours, closing hours and others during the covid-19 outbreak on GMB profile. That's why every business needs Google My Business page these days.
Simply put, your prospects may choose to go to your competitors if you don't have Google My Business page and can't provide customers with the information they need. That means that you have to create and update your Google My Business page to prevent these kinds of things from happening.      
However, setting up Google My Business listing is not enough. It would help if you aimed to get the most out of Google My Business page. That means that you have to constantly update your Google My Business and refresh the information on your business page. You need to take several steps to achieve success with GMB and grow your local business.  
First and foremost, you have to create a Google My Business listing that stands out.
After that, you have to do Google My Business page optimization.
It's essential to manage the listing successfully as well.
Below, we'll provide you with the tips that you need to follow to optimize your Google My Business profile in the best possible way and achieve the most effective results. This will help you promote your local business more successfully and get more sales.
Keep Your GMB Listing Active and Up-to-date
Having the right information in fields on Google My Business listing is incredibly important for the success of a local business. Inaccurate information in these fields negatively affects local search engine rankings as well as conversions.
If, for example, you provide the wrong address or wrong phone number on GMB listing, then prospects may find it difficult to get in touch with you.
Let's say that your business information has changed. In this case, you have to refresh your Google My Business page as soon as possible and provide customers with the correct information.
Make all the necessary changes to the business page immediately. Remember, your GMB profile has to contain relevant and the latest information about your local business.
You must check the information provided in all fields of a GMB listing. Update your Google My Business account if necessary.
You need to know that the description field on Google My Business page gets a lot of attention. That's why it's so important for you to provide the most important information about your local business in this field.
Categorize Google My Business Listing Properly
Keep in mind that the way you categorize your business on GMB has an impact on local SEO. The fact is, you get a local citation if you create Google My Business listing for your company. That's why it's so important to pick the right category for a local business on Google My Business.
It would be best if you gave a preference to the most relevant category that corresponds to your business in the best possible way. Sometimes, it makes sense to add a secondary category for a local business. By doing so, you'll be able to categorize your GMB listing in a better way.
Update Photos on Your Google My Business Page Regularly
Sometimes, local businesses have to change their interiors and do renovations. Local business owners decide to make changes to their interior designs for various reasons.
Let's say that you've changed the interior design. In this case, it would be better to update photos on GMB listing as well. Make sure your Google My Business will contain the most relevant and most up-to-date photos.
It's recommended to update photos on Google My Business profile from time to time. So, shoppers will see that you are changing and improving your business.
Actually, it's pretty easy to replace photos on a GMB listing. All that you need to do is to delete old images and add new ones.
Add "Click to Call Button" to Google My Business Page
Once a potential client comes to your Google My Business page, you have to turn them into a real customer. Obviously, it would help if you used any splendid opportunity to convert Google My Business listing's traffic into customers, sales and revenue. In other words, you should aim to motivate your prospects to contact your business and make a purchase.
It would be great to integrate the so-called "click-to-call" button into your Google My Business listing. A button of this type is used to connect a business to customers. Such a button makes it easy for consumers to contact you. As a result, your conversions will increase significantly.
Make Posts on Google My Business Page Regularly
Google My Business provides local business owners with the possibility to add blog posts to a listing. And of course, you should take advantage of this option. Blog posts will help you get attention to your GMB listing.
Making posts will help you keep your target audience informed about the events and news which are relevant to your industry. You can also optimize your blog posts for the keywords that your target. If you publish posts on Google My Business Page, then you'll remind people about your business.
It can be difficult for business owners to come up with blog post topic ideas for GMB posts. Google posts have to provide content that brings value to the target audience. In fact, different types of posts can be published on your Google My Business page.
Would you like to provide your prospects with discounts?
Do you have a special offer for your customers?
Have you launched a new product or service recently?
Do you need to inform your customers about important news?
Are you going to organize an event that's related to your business?
If so, you can create posts for Google My Business listing and share the content with your target audience. This type of content is suitable for Google blog posts.
You have to create great posts for Google My Business page. It's recommended to write eye-catching headlines for posts. Such posts get a lot of attention and help attract the target audience to a local business. It can also make life easier for posting, if you use a social media content publisher that will post to GMB, Facebook, Instagram, LinkedIn and Twitter simultaneously.
The information in Google posts has to be relevant to your business. It would be great to add photos or videos to your posts on GMB listings as well. And, of course, you should add a call-to-action to your Google posts.
Conclusion
As you can see, Google My Business plays an important role in the online promotion process. GMB contributes greatly to local SEO and business success. However, you have to stay active on your GMB page all the time.
Google My Business will work well only if you provide accurate information on your page. Such details as business hours, description and contact information have to be accurate.
That means that you should update your GMB profile regularly and keep the information about your local business up-to-date. Check your Google My Business profile and make changes to it if necessary.
Best of luck, and feel free to reach out to us at any time with questions!