Local SEO for Businesses in Langley, BC
SEO is one of the most important aspects for a company to rank higher on Google and we are proud to be your local SEO pros in Langley BC. We've got our fingers on the pulse of what makes local businesses show up on Google, Google Maps and Bing.
Our specialty? Crafting compelling SEO content that resonates with people in both Langley City and Langley TWP market. We're not just experts, we're your neighbours, and we're ready to help you shine on Search.
Understanding the Significance of Local SEO in Business.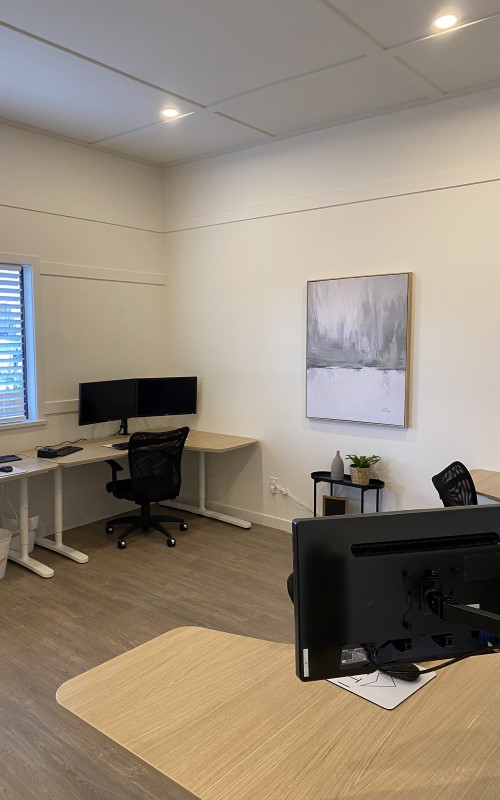 switch from paid to organic web traffic.
We're noticing a significant switch from paid to organic web traffic, indicating the growing importance of SEO in our (and your) online marketing strategies.
We're not just about improving your business; we're about elevating Langley, our shared home.
Together, let's bolster the Fraser Valley, support our neighbours, and make Langley shine on the digital map. SEO isn't just business; it's belonging.
show up for the right content with keywords.
Showing up for the right content with keywords is something we can't overlook in our marketing efforts. By leveraging optimal keyword placement and refining keyword research techniques, we're able to increase website visibility in Langley BC's crowded business landscape.
By focusing on the right content, we're not just improving your search engine rankings, we're creating a sense of belonging among your audience. We're not merely marketers; we're architects of community connection.
In our expertise, there's a clear distinction between strategies tailored for a specific geographic area and those intended for broader, national reach. Local SEO can significantly impact small businesses in Langley, BC, driving foot traffic and enhancing local visibility. However, implementing it presents unique challenges for each business.
content that brings topical authority.
Our team's dedicated to crafting content that's not only engaging, but also authoritative, helping your website demonstrate credibility and relevance in your industry.
We're experts at using Google Trends and AnswerThePublic for keyword research, enabling us to create engaging content that truly resonates with your audience.
Core Elements of Our SEO Strategy in Langley.
Key Steps in SEO Process and Optimization
We've got a systematic approach to SEO analysis and optimization that includes keyword research, content marketing, technical SEO, and social media marketing. Our expertise in the local business landscape of the Township of Langley allows us to create effective SEO strategies tailored to your needs.
Here's what we do:
Optimizing websites for local search, making your business visible to nearby customers.
Conducting keyword research to understand what your customers are searching for.
Addressing technical SEO aspects to ensure your website is easily navigable and user-friendly.
Leveraging social media marketing to engage with your audience and strengthen your online presence.
Implementing content marketing strategies that resonate with your audience and position you as a leader in your industry.
Together, let's make your business stand out, whether you're in Port Kells, Brookswood or Aldergrove.
next step: Implementing Successful Local SEO Strategies for Business Growth
Let's delve into how implementing strategic optimization tactics can help elevate your business growth and boost your online visibility.
Across Langley BC, local SEO success stories abound, demonstrating the power of effective local keyword research. We've seen businesses skyrocket in SERPs, all thanks to the careful cultivation of online reviews and Google Business Profile optimization. The impact of these changes on local SEO is undeniable. Remember, folks trust folks!
As a small business, capitalizing on local SEO tips can be a gamechanger. Start with a solid profile and don't forget to engage with your local community online.
Lastly, measuring the ROI of local SEO efforts is crucial. It helps us tweak our strategies for better results, ensuring you belong at the top.
5-month before and after geogrid for google maps.
Reaching out to our team of experienced experts can significantly improve your online visibility and business growth. We're at the forefront of local SEO techniques for small businesses in Langley BC, and we're eager to help you thrive.
We understand the impact of online reviews on local SEO and can help manage your online reputation.
We excel at mobile optimization for local SEO success, ensuring your site is user-friendly on all devices.
We're pros at leveraging social media for local SEO, enhancing your online presence and engagement.
We know the role of backlinks in local SEO rankings and can build high-quality, relevant backlinks for your site.
We're not just your service providers; we're your partners in success. Let's grow together.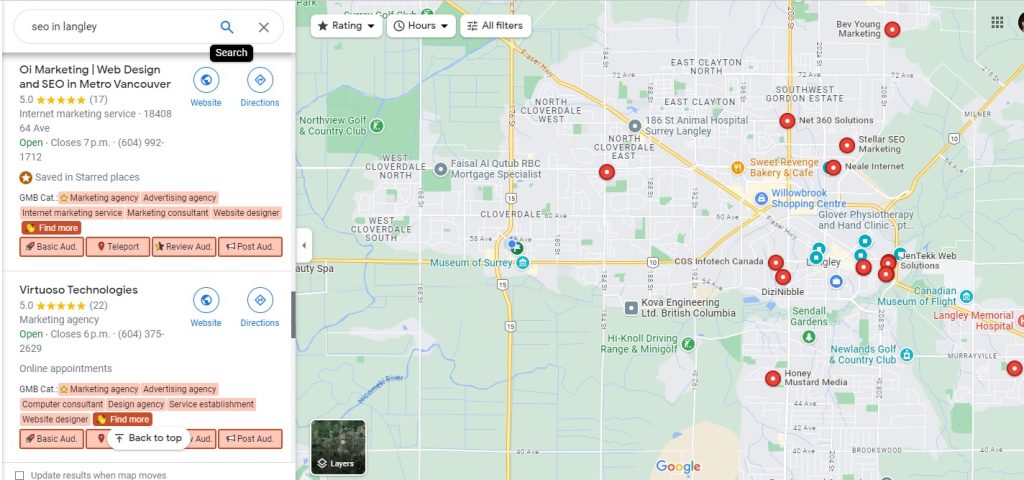 We've been doing local SEO for almost five years and have tons of results to prove it!
Reach out to us, your local SEO pros, and let's make your business gleam like the shiny crown of the Golden Ears Mountain, or was that Grouse? Geography was never our strong suit.
Success is just a click away!